You can use this sample
FREE ESSAY for inspiration

Analysis the Beliefs and Behavior of George W. Bush
The modern world is a home for many religions and forms of spirituality as well as numerous philosophical and religious doctrines. The founder of psychoanalysis, Freud, argues that religious ideas are illusions, i.e. the accomplishments of infantile desires of a man. In the suggested article, Faith, Certainty and the Presidency of George W. Bush, Ron Suskind proves that George W. Bush's certainty in his mission had an unhealthy nature. This essay focuses on exploring the concept of religion as idealization, which is confirmed in the practice of psychoanalysis. Besides, it analyzes the beliefs and behavior of George W. Bush as presented in the article.
Religion as a Neurotic Reaction
A basic argument that proves the thesis of the research is George W. Bushs belief in the existence of God: Bush was reported to have said, I trust God speaks through me (Suskind). According to definitions of religion and faith put forward by Freud, faith in God is a manifestation of a painful neurotic reaction of an immature personality.
When Freud began to study the soul, he formed the theory of psychoanalysis and outlined his view of religion (Freud). He believed that the basis of religion is nothing but a projection of a psychic phenomenon in the outside world. In his work The Future of an Illusion, he writes, that a motive to long for a father is identical to a need for protection from the effects of human weakness, the way a child overcame his childhood helplessness, gives the certain features of the adult's reaction to his helplessness, and this reaction is the formation of religion (Fonda).
In Totem and Taboo Freud continues to state that religion is an illusion, and that the specific feature of the illusion is its origin from human desire. Believing in a personal God, according to Freud, is an infantile delusion, and religion is an illusion which can develop into a neurosis (Freud). Freud believes that faith is a manifestation of a mental disorder in a person.
Religion is a Characteristic of Narcissistic Personality
The next argument mentioned in Ron Suskind's article that confirms the thesis is the behavior of George W. Bush caused by his belief in his omnipotence. This can be seen from the following quotation:Bartlett went on to say, He truly believes he's on a mission from God. Absolute faith like that overwhelms a need for analysis. The whole thing about faith is to believe things for which there is no empirical evidence. Bartlett paused, then said, But you cannot run the world on faith (Suskind).
Based on the above quote, this faith cannot be called healthy. A man tends to idealize, i.e. attribute special qualities and merits to the people he depends on. However, for some people this need takes on a distorted exaggerated form of psychological fusion with an all-powerful force that provides security and bestows infinite benevolence.
VIP Services
Get Order prepared
by top 10 writers
Full PDF plagiarism
report
VIP Services
package - 29.98USD
20% OFF
Get order proofread
by editor
Get VIP Package Now
Based on the description given by psychoanalyst Ernest Jones to the narcissistic personality type in his Essays in Applied Psycho-Analysis, a narcissist's life is centered around maintaining self-esteem based on the confirmation received from the outside (Levy). A narcissist overestimates his creative abilities due to visions of his omnipotence. In the early years, a child has fantasies of the omnipotence of the person who takes care of him, gradually replaced by the fantasy of his own omnipotence. Normally, as he grows older, the child accepts the fact that a person cannot have unlimited powers. But some people are unable to overcome the unhealthy desire to feel the sense of omnipotent control, and all the events in their life are interpreted through the prism of their own vision of omnipotence.
Don't waste your time on boring tasks!
Order
A manifest of their omnipotent influence that rejects all the ethical, moral and practical considerations becomes their main satisfaction and the main purpose of their life. A quote from the suggested article confirms this. A Republican senator recently told Time Magazine that the president walked in and said: Look, I want your vote I'm not going to debate it with you. When one of the senators began to ask a question, Bush snapped, Look, I'm not going to debate it with you (Suskind). This behavior may be described as psychopathic.
Religion is a Primitive Defense Mechanism of Idealization
The article proves that George W. Bush displays such traits as narcissism, selfishness, and the idealization of his own persona: Mr. President, I finally said, How can you be so sure when you know you do not know the facts? Biden said that Bush stood up and put his hand on the senator's shoulder. My instincts, he said. My instincts. Biden paused and shook his head, recalling it all as the room grew quiet. I said, Mr. President, your instincts are not good enough! (Suskind). Structurally, the psychology of such a person is based on a protective mechanism of primitive idealization.
The concept of protective mechanisms was first introduced in psychoanalysis. Psychological protection is a system of regulation and stabilization an individual aims at eliminating the anxiety in a situation of conflict. The purpose of psychological defense is to reduce emotional stress.
Protective mechanisms are formed in all people during childhood as a response to a frustrating situation or psychological trauma regardless of whether people have any psychological pathologies. A problem arises when one refuses to acquire new psychological experience of interaction with the reality. Primitive immature defenses put a boundary between the outside world and the I, and are characterized by the lack of contact with reality.
You will receive these EXTRAS at no additional charge ($57.30)
FREE

Plagiarism Report Screenshot

(on request)
FREE

Bibliography / Reference Page

FREE

Revision within 2 days

(48 hours)
FREE

E-mail Delivery

FREE

Formatting

FREE

Outline
Melanie Klein, a significant name in psychoanalysis, defined idealization as protection against a persecutory alarm (Glover).One of the ways in which a child safeguards himself from the overwhelming sense of fear is faith in an almighty power, and psychological merging with it ensures his safety. M. Klein also introduced the notion of "good" and "evil" objects. The purpose of the child is to find the ideal object, perceived as the giver of life and protector, to preserve it within himself and to identify with it. Therefore, according to Kleins theory, children have pronounced inner desire to seek a higher power in the face of God. Also, through this merging a person hopes to get rid of the feeling of shame, because the belief in the perfection of an idealized object painfully highlights his own imperfections.
The downside of the need for idealization is depreciation. In real life, nothing is perfect, and so the archaic way of primitive idealization inevitably leads to disappointment. The more illusions a person fosters, the harder it is for them to go through a downfall.
De-Idealization of a Religion and a Personality
Analyzing the behavior of George W. Bush, one can conclude that a tendency for de-idealization is not observed in his behavior, which indicates the lack of a process of personality individuation.
At a later personality development stage, a man feels the need to ascribe special qualities to people he is emotionally dependent on. If the development of the personality occurs with no pathological disorders, then the process will become a part of the normal idealization of mature love. The trend to de-idealize those whom the person feels an attachment to is part of the process of individuation and a sign of maturity. It enables the person to give up the false self and abandon the omnipotent control over the religious object. Trends that de-idealize religion can aid this process. According to Johnson, famous Zen sayings can serve as examples of de-idealization of religion: If you meet the Buddha on the road, kill him, or The Tao that can be named is not the eternal Tao. Another example is the Protestant controversy ? reformers against idolatry.
Top 10 writers
Your order will be assigned to the most experienced writer in the relevant discipline. The highly demanded expert, one of our top-10 writers with the highest rate among the highest rate among the customers.
Hire a TOP Writer
Unhealthy Religion of George W. Bush
To confirm the thesis that the certainty of George W. Bush is unhealthy, there is a need to resort to the academic interpretation of the concept of religion. Nathan Soderblom, the Nobel laureate and Swedish researcher, in his religious works concluded: Holiness is the defining word in religion: it is even more important than the concept of God. True religion can exist without some understanding of the Godhead, but there is no true religion without a distinction between sacred and profane. Holiness and cohesion form the most important signs of the true religion (Idinopulos and Yonan). James Paker, Doctor of Philosophy of Oxford University, provides a definition of the concept of "holiness" based on which the actions of George W. Bush cannot be called a manifestation of holiness, arising under the influence of grace. Being Holy – it means to be faithful to God and to show loyalty, compassion, benevolence, kindness, patience, righteousness (Paker).
Save your time for something pleasant!
Order
Based on the definition above, one can conclude that Bush's faith is not healthy, because the suggested article does not illustrate any healthy manifestations of faith such as righteousness and holiness. On the contrary, one can see negative manifestations of Bushs religion such as arrogance, strong sense of individual (me), and the feeling of omnipotent control.
Conclusion
After analyzing the article Faith, Certainty and the Presidency of George W. Bush by Ron Suskind and determining that, according to psychoanalytical theory, religion is a defense mechanism of primitive idealization, one can draw the following conclusion: George W. Bush's certainty in his exceptional mission as a component of his motivational-volitional sphere had an unhealthy nature. The study also reveals unhealthy signs in George W. Bush's religious beliefs, which do not correspond to the concepts of holiness of faith. Thus, the psychological state of George W. Bush and his belief in his messianic destination can be described as unhealthy.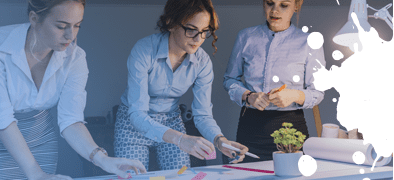 Like this
sample essay?
Order a Custom One Created by Professionals
DISCOUNTS